Over the past little while I've been making some changes to help streamline how my online reading requests are handled.  In the past, someone would either contact me through my site or make a payment to schedule a reading and then we would work out a suitable time to set for the reading.  This could involve several emails or phone messages trying to firm up a time which can take several days and leave people frustrated.  I've changed it up a bit!
I've implemented a two step process now which should make it much easier to set up your reading.
The first step is to use an online scheduling program I have installed on my Psychic Readings page.  What this will allow you to do is choose from multiple days and times that I have set up as my availability.  It will book the appointment time that best suits your schedule.  It's quick and easy!  I've taken a couple of  screenshots of what the pages looks like that you pick your time from and posted it below: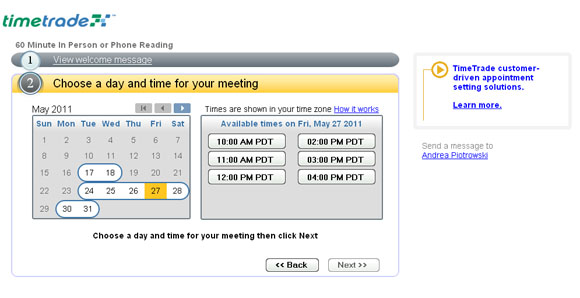 Once you have chosen your date and time it takes you to a second screen where you input your contact information and reading preferences.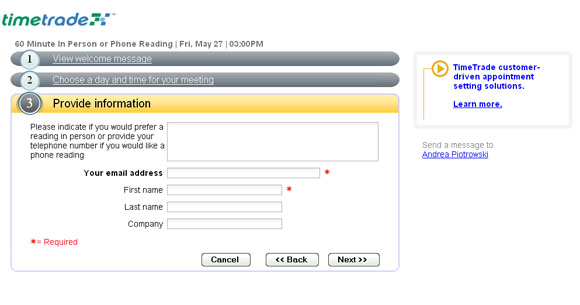 I will receive all of this information and the time that you have chosen will be reserved for you immediately.  If at any time that you have any questions about this process there is a link on the right hand side that will allow you to contact me with those questions.
The second step has remained the same as before, which is a link for you to be able to pay for your reading through Paypal.  I've found Paypal to be very user friendly and makes this process very easy for everyone.  For people setting up In Person Readings, you have the option to wait until the day of their reading to make payment.
I'm really pleased with the new scheduling system I have integrated with my website and I hope that people wanting to book readings through my website will find it simple and efficient to use.
What are your thoughts on my new system?  Would love to hear any feedback below!
If You Liked This Post You May Also Like These...
---
2 Responses to "Scheduling Made Simple – A New Way To Book Your Next Psychic Reading"