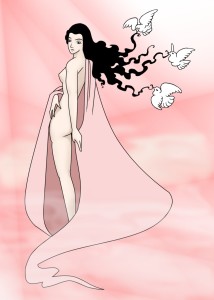 A couple of weeks ago I went to a great workshop!  It is called The Divine Goddess workshop and it was hosted by a wonderful woman, Carole McLatchie.
When I first heard about this workshop, I was really unsure about going.   I didn't really know what to expect.  I thought it would be a day filled with women talking about their problems and looking for sympathy.  Boy, was I EVER wrong!  🙂
I had a day filled with encouragement, self-empowerment and self-exploration.  Carole provided an environment which felt very safe and open.  This allowed me to be able to open up to myself as well as others and become aware of things that I didn't even realize.
I think the biggest thing I became aware of was the lack of trust I had in other women, which I am sure that a lot of people can relate to on some level.  For me, this lack of trust was stopping me from starting new friendships.  I would shut down at hello, and didn't even realize I was doing it.  I am now aware of the reasons why I was like this.  It really got me thinking though.  How many other women out there feel like this?  What are the reasons behind not being able to trust other women?
Why do we have to feel like we need to compete or be better than other women?  Also the feeling of having to judge other women, on their clothes, hair, looks, what they say…etc.  Why are we so hard on other women in our lives?
I think it is because we are not comfortable with who we are ourselves.  The feeling of not being good enough, pretty enough, smart enough.  Our self-esteem has been beaten up by so many factors, of which are different for each woman.  Naturally, it is easier to turn outside rather than inside.  Focus on what others are doing or how they are looking, rather than concentrating on ourselves.  This feels like the underlying root of this problem.
How do we change this?
No…we don't change ourselves.
We become OK with with who we are as an individual.  We learn about ourselves, be grateful that we are unique.  We embrace our differences, within ourselves and with others.  We start to support other women rather than try to pull them down.  We celebrate our accomplishments, feel inspired by other women, instead of  feeling jealous.  It's time to turn loathing into love.
If you are in the Moncton area, I would definitely recommend going to this workshop.  This is just one example of what I was fortunate enough to be able to take with me from this wonderful day.  Carole's website is www.spiritualrejuvenators.ca.
I was given an information sheet about the workshop and I will quote some of the reasons you should attend this workshop if you are able to!
This is an opportunity to learn how to appreciate and respect yourself as well as other women. This is an incredible "bonding" experience that provides a new perspective on how women view their own sex.
This workshop is designed to build self-esteem and demonstrates our strengths as well as defining our weaknesses so that we can make the most of our potential.
As women, we under-rate ourselves.  It's time to face who we are meant to be and to recognize the incredible power we possess.
Every woman is meant to be a GODDESS.  Women of all ages.  Married – Separated – Widowed – Single – Divorced. When we learn to connect the Goddess energy within us, then we finally reconnect with our own inner Goddess.
Thanks again Carole!  What an amazing experience that day was!  Thank you to all the wonderful goddesses that attended as well!
If You Liked This Post You May Also Like These...
---
5 Responses to "Can You Be A Divine Goddess?"