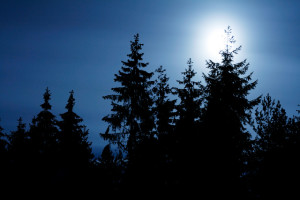 Last night I experienced something truly amazing.
I decided to go and stay in a cottage nestled within 400 acres of forested land.  It was a very beautiful place, quiet and peaceful.  The people I was staying with mentioned that the fireflies would be out that evening and that I should take a look out the window once dusk came.  I thought that was pretty cool and figured I would take a look later on.
As dusk approached, I saw a single firefly, which was pretty neat.  I've only seen them a couple of times before, so it was kind of neat to see them again.  It was pretty cute…how it was blinking along.  I waited about 15 minutes, just watching this lonely firefly dancing around in the air having a good time.
It was starting to get much darker now and at that point I had decided to go look out another window at a different field.  When I got to the window, I couldn't believe my eyes.  There were at least 100 fireflies dancing around out there, sparkling in the sky.  It was breathtaking.
I sat there and watched…and allowed myself to just BE.  Be in that moment, looking at these amazing little creatures.  I allowed myself to feel like a child again, lost in wonder, truly happy in this moment.  It was such an overwhelming feeling that came over me.  I was so happy, so at peace and so thankful to have been a part of this magical moment.
At that point in time, nothing else mattered.  It was about being in the moment.  Not worrying about work, bills or what time to wake up the next day.  I was able to feel so much love just standing there looking out the window.  I felt so blessed for being in that moment.  I will never forget it.
How will you find your happy place?
If You Liked This Post You May Also Like These...
---
One Response to "Finding My Happy Place"