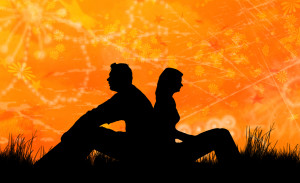 I was thinking the other day about how my relationship with my husband has progressed over the years and I thought of something that I would share that might help some of you out.
We have been together for almost 14 years now, and have had lots of ups and downs.  Some really good arguments and lots of great laughs.  What I was thinking about was how our communication has evolved over the years and it wasn't until just recently that I started changing things up a bit when it came to conflict and how I handled it.
Paul and I can both be very stubborn people.  For those of you that follow astrology, I am a Taurus and he is a Scorpio.  This makes for a very interesting dynamic when it comes to how we communicate and resolve our differences.  🙂  Things can get very heated!  We both don't like to give in or compromise either…or even admit wrong doing.
So, what made me decide to change things up?  Well, I was speaking to one of my very wise mentors, Tamara about how frustrated I was becoming with certain things in our relationship and she gave me some really good advice.
She stopped me dead in the middle of my rant and asked me, "What energy are you going into this discussion with him with?"  I think I just stared at her for a few seconds, and then said, "Huh?"  She asked the same question again and at first I really didn't understand where she was going with this line of questioning.  🙂  She then started to explain to me what she meant.
If I go into his space with pissed off, frustrated energy and want to discuss something that has made me angry, the energy I am taking into this discussion is negative, angry energy and the outcome of what I want to discuss will more than likely be something I don't want it to be.
If I change my energy, and make it calm and open to discussion, the outcome of the discussion will be completely different.  He won't instantly feel defensive or angry right off the bat and will be open to talking about what I am feeling, rather than shutting me down.
Her advice made sense, but did it really work?  Could I do this?  Sure, after some practice at it!
I can tell you that it does work, that in fact, it makes the communication so much easier.  When I go into a situation with an energy of love and caring rather than from an energy of anger and frustration, the situation is so much different.  A lot of the time, I am able to help him understand my point of view and he is able to express that he understands how I am feeling and we can then come to some sort of agreement or compromise.
So, I guess what I am getting at is that the next time you decide to have an argument with your loved one, try to step back and take a time out.  Take the time to become aware of the energy you are going into the situation with and decide what you would like your outcome to be.  Make the effort to communicate from a positive state rather than a negative one.  You will be glad you did!
If You Liked This Post You May Also Like These...
---
7 Responses to "Taurus Woman and Scorpio Man – How To Communicate"