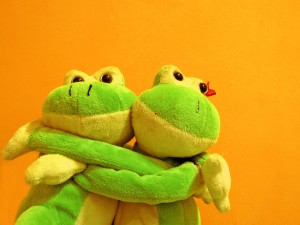 I've decided to stay a while longer here in New Brunswick as I feel that I have more to learn here.  I originally had planned to come home the end of August, early September, but now I am staying until at least October.  With the possibility of staying as long as a year.  I have been getting intuitive feelings about being here for a while longer over the past couple of weeks and as hard as it is to be away from home, it really feels so right to stay.
So, let's talk about that a bit because I'm sure some of you out there are puzzled at the fact that I have a husband in Vancouver, and are wondering how I could leave him there and be here for so long.  Or even how he could be supportive of the fact that I want to stay here for so long.
I have told a few people and I have been getting very mixed reactions, which is quite interesting.  The majority of people assume that Paul and I are splitting up, and even after reassuring them that we aren't, are still decided that we are splitting up.  I am thinking that it is hard for people to understand the way we work as a couple.
I already know that the relationship we have is quite unique.  As much as we are a couple, we are quite independent.  When we talk to each other about issues, we are able to be open and real.  We don't hold back like a lot of couples do, afraid to share their true feelings.
But I think the biggest difference between our relationship and most other relationships out there is the fact that we are supportive of each others dreams and callings in life.  I'm not saying that it's easy to be like this, because it isn't.  But I do feel that it is integral to any relationship to allow for your partner the freedom to grow personally.  And truly, the boundaries of this are to be determined by each couple depending on what they want to experience out of life.
Can you imagine living like this?  Being able to go after your passions, the things you've always wanted to do in life with the support of your partner?  How awesome would that be?  This is what I tell those people that come to me with the reaction of, "well…what about your marriage?" Well…what about it???
So, how do I *know* that I am doing the right thing?  This is another common question posed to me frequently.  Actually, this is the question that doesn't really get asked, but that I can pick up on from people's energy.  🙂
I FEEL it.  This is the best way to describe it.  It comes from the core of your soul, right from your heart.  It's a feeling of pure love and happiness.  It feels light, like a weight being lifted from your shoulders.  It just feels right.  Some of you might be able to relate, but the feeling will be different for everyone.
How do you do this, you ask?
An exercise you can start out with is to just start asking yourself how you truly feel about something.  Without any expectations.  Don't worry about what other people think.  Just sit in a quiet place and and just feel.  Don't think.  Maybe start with trying to see if something feels heavy or light to you.  Like the weight on your shoulders analogy.  It will grow from there.
All in all, I realize that this situation is out of the norm…but really, who wants to be normal?
🙂
If You Liked This Post You May Also Like These...
---
12 Responses to "What About My Marriage?!?"