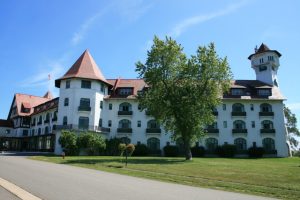 I just got back from an overnight trip to St. Andrews by the Sea…and although I was completly exhausted when I got back, it was a great trip!  It's a cute little town situated in the Southwestern area of New Brunswick with lots of local shops and great places to eat.
I think that my favorite part of the trip was the time I spent at the hotel I stayed at.  It was the Fairmont Algonquin.  The staff there are VERY friendly and go out of their way to make you feel right at home, which for a large hotel you don't see very often.  It was originally built in the late 1800's and due to a fire in the early 1900's it had to be rebuilt.  There is a lot of character to this hotel, which makes it quite unique.
The hotel is haunted, which I didn't know at the time of booking, but just adds to the character of it!  There are many accounts of sightings and stories that the staff love to tell.  I was fortunate enough to add a new story to their list!  A new ghost visiting their property!
His name is Captain Timothy McGinnis and he decided to keep me up all night until I went downstairs to "tell them" as he said.  🙂
It started around 230am, I had just fallen asleep (I was up late reading a really good book!) and I woke up to feel a presence in my room.  At that time I didn't know who was in my room, just that there was someone there.  I have to admit, this was a little freaky at the time.  After about 30 mins, and relaxing a bit, I was able to see who was there.  I had a chair in my room, and a man was sitting in the chair, dressed in a very old looking soldier uniform.  It's colours were navy blue with a bit of red on it and brass buttons.  I was able to see his face a bit, although, it wasn't that clear.
The first thing he told me was that he was a sea captain, and he repeated this a few times.  He then moved on to tell me to "tell them", and repeated that a couple of times.  The other thing he repeated was his name which was McGinnis.  So, not a lot of information, but over the course of 3 hours he repeated the same information over and over.  He also decided to shake the door handle on the closet every 20 mins or so to make sure that I didn't fall into a deep sleep.  It was fun. (note the sarcasm…)
At 530 am, I decided to give up.  I said aloud, "FINE! I will go down and tell them!".  So, I got up, went downstairs and told a young lady my story at the front desk.  She was interested, but a bit freaked out as well.  At this point, I didn't have much information about who the ghost was, but I told her the story as it happened.  I went back up to my room and decided to see if I could find any further information on this McGinnis ghost.
With the help of my husband, we did find out some interesting information, and are quite confident that it was Timothy McGinnis that visited me.  There is a lake about 1.5 hours away from where I was staying, called Lake George.  At this lake in 1755 there was a battle, in which, a Captain Timothy McGinnis fought and was killed.  I had also found out that St. Andrews was a huge British Navy port back in that time, where a lot of ships docked.  I also have a little bit of information, although not verified, that Timothy McGinnis was buried in St. Andrews.  So, I am quite convinced that this is the same person that decided to visit me in my room.
I went back downstairs after that and told this young lady the new information I had, which interested her quite a bit.  She had also done a bit of a search and came up with a bit of the same information I had, which was neat.
I only got about 3 hours of sleep after that little adventure, however, I have to say I thoroughly enjoyed staying at this hotel!  The beds are very comfortable, even if I didn't get a full night's rest!
🙂
If You Liked This Post You May Also Like These...
---
8 Responses to "A Visit In Saint Andrews…"