I think one of my biggest challenges so far here on my trip is learning to be completely alone.  More than that, it's being alone and being OK with being alone.  Don't get me wrong, I am quite independent and I am often doing things on my own a lot of the time.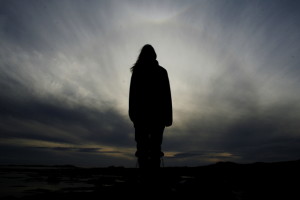 But the difference here I think is that I am now making decisions on what I want to do without outside influences.
Here's an example.  Five O' clock rolls around and I start to think about dinner.  What do I want for dinner?  Normally I would consider what my husband might want for dinner and make something that I know he will like.  And I would do this without thinking.
I've had to rethink and retrain myself to decide on things based on what I want, what I like, or what I feel like doing.  This is something totally foreign to me!  What DO I want?  What DO I like to do?  These questions that seem so common, have really stumped me at times!

I have a friend whom I admire.  This person is truly independent, knows what they like, knows what they want out of life, and is really in tune with their inner self.  This person is OK with being alone, and in fact, quite likes it.  This person makes decisions based on what what they want, without any outside influences.
This is something I want to aspire to.
How many of you can say that you honestly know who you are and what your likes and dislikes are?  Take out social conditioning,  beliefs bound by guilt, approval seeking or any other outside influences that conform your decisions.  Can you do it?
Not so simple now, is it?
🙂
If You Liked This Post You May Also Like These...
---
3 Responses to "Decisions…Decisions…Decisions…"