One of my favorite places to visit is Maui.  Not only is it a beautiful island, it has great spiritual and healing energy there.  I just love it there!
On this most recent trip I decided to get a new tattoo while I was down there, IF I found the right shop/person to do it.  And I did!
When it comes to tattoos, there are many opinions out there about them.  Some people love them, some people hate them.  For me, tattoos are something I personally enjoy, especially when they are full of meaning and are symbolic to the person wearing the art.  I love to hear stories of what someone's tattoo means to them.
The owl is a very symbolic bird for me.  I see them very often and in many different places.  Around my home I hear them quite often.  I've seen them on my travels throughout Canada as well is the towns close to where I live.  They show up for me the most when I am contemplating changes in my life, and I really feel like they guide me through these changes.  I know that when I see them, I am moving in the right direction.  They are also a symbol of protection for me.  I call on their energy when I need it.  They are beautiful birds and I just love them!
I decided to get an owl tattoo and just had to find the right artist to do the work!  One thing I strongly believe in is when looking for the right tattoo artist, it is very much just like looking for your energy healer.  It's important to find someone that you energetically jive with, or are drawn to. Why, you ask?  What I believe is that when you having symbolic work imprinted physically onto your body, it will also have an energetic imprint on you.  There is energy being infused into the tattoo which can come from you, the symbolism from the tattoo, as well as from the artist themselves.  When I go looking for someone to get a tattoo from (I have had 3) I have always picked the artist because of what I am feeling from them energetically.  I look at their portfolio as a secondary.
I found someone at Zen Tattoo and Art Gallery in Kihei, Maui.  His name is Kevin Reinert and he is a fantastic tattooist/artist.  He has great energy, listens to what you want to have done, has lots of experience, 15 years (for those that look for that), and has exceptional artistic ability.  If you are ever in Maui and want a tattoo…then I would definitely recommend him!  I will be searching him out for my next one!
I've listed my owl tattoo as well as a few pictures from his portfolio!!  Enjoy!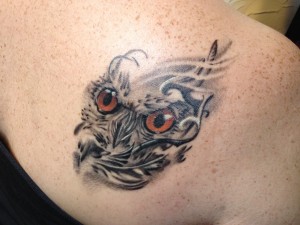 If You Liked This Post You May Also Like These...
---
3 Responses to "My New Owl Tattoo"