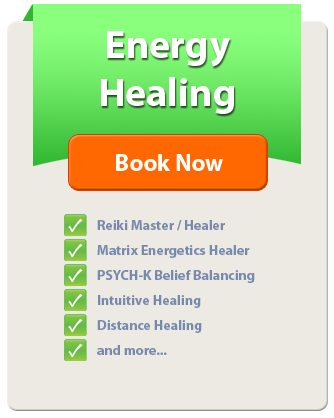 Energy Healing by Drea
I am an Intuitive Energy Healer trained in various healing modalities such as Reiki (both Eastern and Western), Matrix Energetics, Distance Healing and the PSYCH-K belief change technology.
I combine an intuitive healing approach to all my healing sessions, and very often will switch between various modalities throughout a healing depending on the needs of the client in the given moment.  Often times during a healing session, I will receive intuitive messages from the body and the subconscious mind for clients.

My current booking rate is $95 for an energy healing session which lasts approximately 60 mins in length.
To book a healing session, simply click on the "Book Now" button on this page and select an available time slot.  I will email you with payment options and some additional information about your energy healing session.
If you have any questions please read the information below or send in your questions on my contact page.
I also offer Psychic Readings in person, by email as well as over the phone . For more information on my Psychic Reading Services click here.
Booking an Appointment
To book an appointment, click here to be taken to my appointment booking page.
What Others Say About My Healing Sessions
"These sessions for me were life changing.  I was able to let go of relationships that no longer served me, became completely open to change and noticed more positive things happening in my life.  I have renewed energy, my body feels better and I look forward to what is yet to come!  Thank you Drea!"

From Tracey G – Port Coquitlam, BC
"Drea's Reiki level one was amazing! I thoroughly enjoyed my time, and gathering with a small group of like minded people. Drea lays out the material in a way that allows for easy absorption, and a fun environment to learn and practice it in!

It was refreshing to be in a smaller group because this enabled everyone to have their questions answered without feeling rushed.

This course is perfect for anyone who wants a solid foundation to begin their journey in Reiki with confidence! I highly recommend it!!"

From Alicia – Port Coquitlam, BC
"Thank you for the reading Drea! I still can't get over just how accurate you were with my health issues! I am so impressed, and I'm telling everyone I know to contact you for a reading! Thank you so much!"

From Dawne – Vancouver, BC
"When you offered me the opportunity to take your Reiki class it was an automatic YES. After having an amazing reading I knew you would be the right teacher for me. The benefits of taking your class would be the intuitive approach to Reiki, your particular lineage coming from both sources, your beautiful home in the 'forest' along with your presence and Paul's supportive presence creates the perfect setting…good vibrations!

I felt comfortable and really enjoyed the other people present and it was both serious business and lots of fun. I felt privileged to be a part of your first class. I would recommend your Reiki class to others!"

From Susan K – Maple Ridge, BC
"I chose to do my class with Drea as I had a reading and a healing session earlier in the year with her and right away knew that she would be the person to help me on my spiritual journey.

Drea made the class lots of fun and was very informative and knowledgeable about Reiki. What I really loved is that Drea fully encouraged us to follow our intuition while doing a Reiki session as well as teaching us the more traditional way of hand placements.

I would highly recommend taking a class with Drea, even if you are not planning on using Reiki on others, it is worth it for the personal growth and the way it makes you feel."

From Angela K – Maple Ridge, BC
What are my options for booking an energy healing session?
I am currently offering 60 minute energy healing session, in person as well as distance Reiki healing sessions.
What should I prepare for an energy healing session?
Nothing really.  You can wear comfortable clothing and if you have any questions prior to your healing feel free to speak with me ahead of time or at your scheduled appointment.
What is your cancellation policy?
If you cancel more than 24 hours before your session, you will receive a full refund. If you are to cancel less than 24 hours notice, you will not receive a refund.  If you need to reschedule your session because of illness or an emergency, please contact me as soon as possible.
Do you do healings outside of Canada?
I am able to do Distance Reiki Sessions for anyone all over the world.  Please contact me for further information and pricing.
Credentials
Master/Teacher –  Usui Shiki Ryoho Reiki
Level Three (Master Symbol) Komyo Reiki Kai
Matrix Energetics, Level 1 & 2
PSYCH-K Practitioner
Intuitive Healing Methods
Questions?
If you have any questions you would like to ask before deciding to book a session, please feel free to email me here
Disclaimer
Prior to booking a reading, you may wish to read my disclaimer .
Serving Areas
Maple Ridge, Pitt Meadows, Mission, Port Coquitlam, Coquitlam, Port Moody, Burnaby, Richmond, Langley, Abbotsford, Aldergrove, Vancouver, North Vancouver