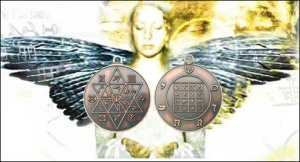 Something I recommend to many of my clients for house protection is this Qabalah Solid Copper Jupiter House Talisman.  I just love it!
My husband found this talisman online a few years back and I was a little skeptical at first about it.  I really wondered if it worked as protection for the house.  Well, over the years I can tell you that the things that I have seen have made me a believer!
When we first got it home Paul installed it and the first thing that happened was that it drained the batteries from the smoke detectors and we had to replace the batteries.  What's funny about this, is that over the years of recommending this to others, this has also happened to them as well!  I'm not sure why this happens…but it does!
Being a medium, I can see many different forms of spirit.  One thing I noticed right away was that when I had clients come to the home for appointments, there were certain spirits that wouldn't come into the home.  They would be outside.  The client would come in, but the spirit wouldn't follow.  I didn't clue in right away as to what was happening.
It wasn't until I had an appointment with a client who had an attachment with a spirit that was very unpleasant.  The spirit showed up before the client did, and let's just say it wasn't a very friendly spirit.  I took notice of this spirit, who stood outside the house in the yard.  The client came for their appointment, and I spoke of this entity to them.  The client was familiar with what I was talking about and we spoke of different ways to look at clearing the spirit and empowerment for them.  Something I noticed with this spirit that was also different than the others that waited outside was that it WANTED to come inside but couldn't seem to.  There was a desire to enter the house, where as in the past I hadn't noticed that desire.
This is what made me realize that it was the talisman that was keeping it out!  I was a true believer from that point on.  I've had many other appointments where spirit that isn't aligned with light hasn't come into the home.  This just solidifies for me that this talisman continues to work.
If you are looking for house protection, then I highly recommend you consider getting one of these talismans. Qabalah Solid Copper Jupiter House Talisman. They ship from the UK and take anywhere from 4-6 weeks to get to you.  It's a great investment in my opinion.