Archive for the 'Energy Healing' Category
Here is your 4th installment of the Calendar Collection…a little late!  Better late than never!  Enjoy! 😀
So often we wonder about the "Whys" in life…"Why did this happen?" "Why me?" "Why now?"  But there is a secret that wise people know…

Bumps in the road are an inevitable part of life that soften us, make us grow, and bestow upon us the virtue of compassion.  Often, it is only with the passing of time that it becomes clear the cloud really did have a silver lining, and now we have wisdom, strength, and hope to share.  And at last, we understand the true meaning of the phrase…

"Everything happens for a reason."

-Marci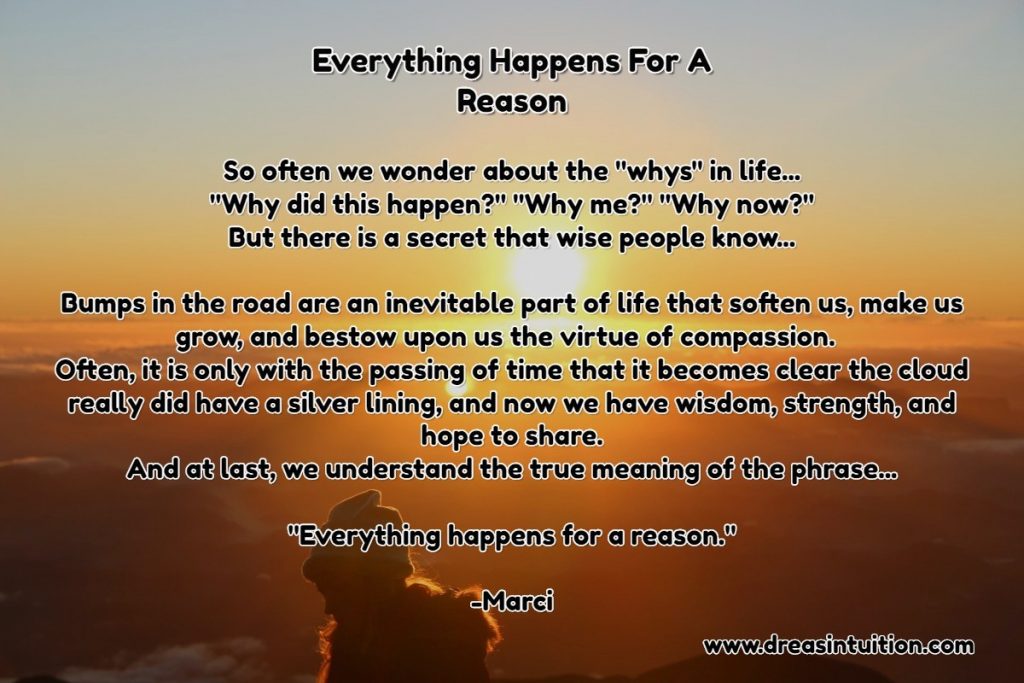 Reiki Level One
Available to 4 students, this level one Reiki class will provide a deep understanding of Reiki and the importance of the Self – Healing energy this level brings.
We will discuss the history of Reiki, as well as learn self healing techniques and hand placements.  There will be a relaxation meditation taught to help you on your way.  You will also receive your first attunement, which includes the first powerful Reiki symbol.
Intuitive healing, sound healing and chakra balancing will also be discussed.
Students will be given practice time to become comfortable with using the first symbol and the strong energy it harnesses.  We will practice self healing as well as healing on others.  Students who successfully complete the class will receive a Level One Reiki Certificate.
Cost: $165.00
Date: Sunday, November 8th

10am until 4pm
Location: Maple Ridge, BC
Energy healing/clearing is something that I recommend be done on a regular basis.  But what does that mean exactly…right?
Let me tell you a little bit about my journey with energy work.  I've been having regular energy work done since 2008.  This may surprise some of you.  Some people may think, "what could she have been working on for almost 8 years now?"  It isn't about that.  I have regular energy work done because I like how my energy body feels when it is clean, clear and balanced.
When I first started with energy work, yes, I had some clearing to do.  There were deep emotional wounds that I had been holding onto for many years.  It was time to heal those wounds and move forward.  I chose energy healing as an excellent way to help me with clearing this energy.
In 2010 I decided that I was going to go to New Brunswick and try a modality called S.A.C.  This decision changed my life.  Completely.  I fell in love with this healing modality and after my first set of sessions and a few Tune-up sessions I decided I was going to learn this modality and bring it here to British Columbia.  I still go back to New Brunswick on a regular basis for my SAC tune up sessions.  This is a regular part of my energy body maintenance.
We must start thinking of our energy body as we would our physical body.  Yes, we can't see (well, some of us can hehe!) the energy body, but it is there!  It works in tandem with our emotions and physical body.  Part of leading a healthy life is to exercise, right?  The same goes for clearing our energy and balancing our chakras.
As we go through life, we deal with daily stress, emotional stress/trauma, anxiety, work, depression, among other things.  What can happen is that this emotional energy will sit within your energy body and become stagnant.  As it accumulates over time it can start to feel more dense and even possibly affect the physical body.  Even if we have started with some energy work, it is important to keep up a regular schedule so that we can maintain a clear energy body.
Ideally, everyone could work on their own energy body and clear their own chakras, on a daily basis much like exercise.  It doesn't take long at all once you get the hang of it.  If someone decided to work on their energy body themselves, from 3-5 times per week I would recommend them to see a professional healer once a month, maybe once every 6 weeks.  This will ensure that the healer picks up on anything that that person missed.
Unfortunately, most people are not this disciplined with their energy clearing.  This is OK!  No need to get down on ourselves about this.  What this means is that I would recommend booking more regular sessions with your healer, perhaps every 2-3 weeks.  You can choose to continue this course of action and eventually work yourself up to more regular clearing on your own, with monthly follow ups with your healer.
My regular clients notice a difference when they come for their scheduled sessions. They feel lighter, energized, happy and see movement within areas of their lives. I always encourage working on their own, and seeking out guided meditations to listen to at home in between their sessions.  It's important to become self reliant with your energy clearing, and as a healer, I am here to help you towards this goal.
Having said that, although I believe that you can be self reliant with your energy clearing, it is important to go to see a healer on a regular basis.  They will see things you don't see and they will help you with your spiritual, emotional, mental and physical growth.  Regular energy work can also speed up the process in moving forward.  This is a great side effect!
I am here to help you on your journey, no matter where you are in this moment.  Book a session with me today.

I recently received 2 new drums to work with.  I am very excited about these drums and I just love the way they found me.  In March I asked the Universe to bring me a few new tools to use when doing my healing work.  I asked for a new "Blood Drum" and an eagle feather.  I put it out to the Universe and then let it go and waited until the right time.  I knew that the Universe would deliver, it was just a matter of time.
Just after the recent Lunar Eclipse (April 2015) that was also named the Blood Moon, I was looking on Facebook and I almost fell off my chair.  A friend of mine, who is also a great healer and intuitive/medium had just held a drum workshop.  She hosts a weekend event where you can make your own drum.  Well, she happened to make a few extra drums and posted them on Facebook for sale.  One of which was my Blood Drum.  I knew it was mine.  So I asked her if it was still for sale, and she said it was!  I told her it was for me and made arrangements to pick it up.
Here is a picture of it!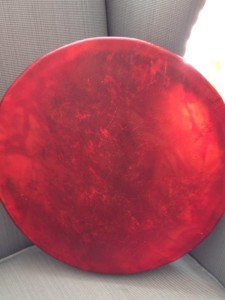 I fell in love with this drum as soon as I felt it.  I am finding that it works great at grounding energy and helping to clear energy from the lower chakras.  I have had great feedback from my clients.
While I was picking up my drum 2 more gifts from the Universe came to me.  My friend who has a Native Indian ancestry told me that her guides told her to give me an Eagle feather to use in my sessions.  I was really excited by that!  So I was able to choose two feathers that I now use in my sessions!  Exciting!
The last gift I received that day came as a complete surprise to me.  While I was picking up my Blood Drum, my friend also told me that there was another drum there to look at.  She had made a very unique drum during that drum workshop and she had said she wasn't sure who it belonged to as it had very unique energy with it.  On the face of this drum there are two holes, which were the bullet holes from the death of the Elk.  She had dyed the skin a dark green colour and planned on stringing it with a "tree of life" pattern on the back.  She told me to take a look at the drum and tell her what I thought of it.  When I saw this drum I just loved it.  I told her it was an amazing drum and whoever got it would be lucky.  She then told me some interesting information!
What she had learned after she had made this drum was that the holes can act as portals to the spiritual realms and that the person who used this drum must be familiar with traveling within these realms, and also able to open and close these portals.  When she found out this information she wasn't sure what to do with this drum.  So she decided to meditate on it and ask the Grandmothers who she could give this drum to.  She told me that the Grandmothers had told her that this drum was meant for me.  I was totally surprised!  I mean, I really loved the drum and was called to it.  So when she told me that last bit of information I told her that I loved it (I think this was the 8th time I told her that..haha!) and that I would love to take it home.  Here are pictures of my "Shadow Drum".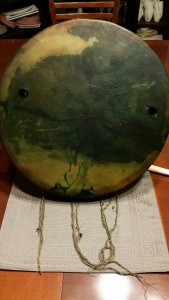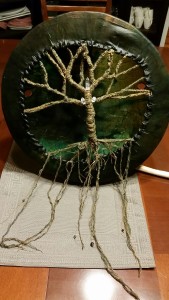 When you hold the drum up to the light there are many different patterns of green on it that the pictures just don't capture.
I called it a "Shadow Drum" because I know that this drum will help my clients with shadow work.  I believe that this drum will help release and/or bring this energy to the light.  This drum has very powerful energy and I am very excited to be able to work with it.
April through to now has been an interesting time for me.  I have had many gifts from the Universe and I have done a lot of self work over the past few weeks that I will be sharing in future blog posts.  I also just celebrated my birthday and I am looking forward to what's to come!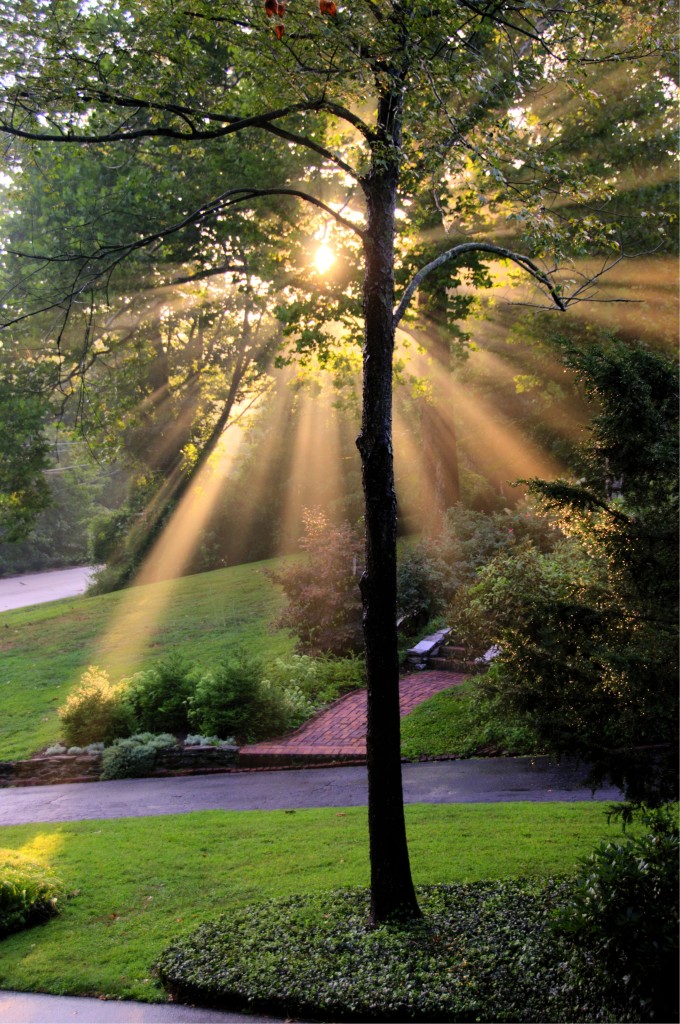 I've decided to put out a Level Two Reiki class for those students wishing to take their healing skills to the next level.
Level two was a fun class for me, actually I think I enjoyed level two the best.  We are a little more interactive and hands on in level two.  I was nervous about this when I took my level two class, so now that I teach it I ensure that I create a really open environment so that my students feel comfortable and at ease when learning.
In level two, you will learn two very powerful symbols, one of which is for Distance Reiki.  You will learn how to write them, and how to direct their energy during your healing sessions.  We will do a guided meditation to clear out blockages and help you to get to the next level in your journey.
In this class we will explore hands on treatment of others and really dive into the symbols and what they can do for you and others.
We will also be covering setting up your treatment space and Reiki client sessions for those who wish to focus on their practitioner training.  Students who successfully complete the class will receive a Level Two Reiki Certificate.
Pre-requisite:  Reiki Level One, 21 day self healing cleanse, 8 hours of practice time on others.
$225.00
Date: April 11th, 2015

10am until 4pm
Location: Maple Ridge, BC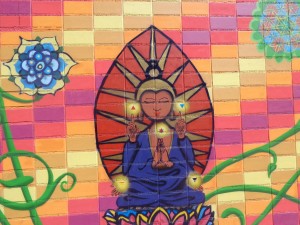 This morning I was out running around doing some errands.  I went into a store that had really dense energy in it.  There was a lot of anger and frustration energy in that store.  I could really tell the difference when I left the store and went outside.
I am fairly aware when I go out and I notice the different energies out there and I try my best not to allow the energy to affect me.  There are times however that I bring some unwanted energy home with me.  I am human after all!  I'm thinking that you can relate to this, right?
We get home and feel slightly irritated or tired.  Things just aren't going right or we react strongly to things going on around us.  When I become aware that I am feeling like this, the first thing I do is change my energy.  Sometimes I can change it within minutes.  Sometimes it is harder to shift.
When I have trouble shifting the energy, I then look at a guided meditation.  They are great and you can find all different kinds on the internet.  One of my go-to guided meditations I found on YouTube and I like it because it focuses on grounding and clearing chakras.  It is a longer meditation, but a good one!
If you are looking for a new guided meditation to try, check out the video below!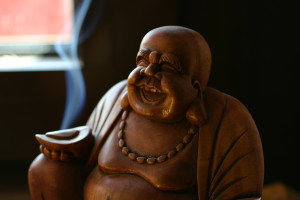 You may be surprised to hear what the one thing I make sure I do everyday is.  Some people would think that it may be meditation, self Reiki sessions or even making sure that I am getting all my veggies every day.  Nope!  That's not it!
I make sure that I have a good laugh.  Everyday.  I find something funny to watch or read about everyday that is going to make me really have a good belly laugh.  I love it!
I love to laugh.  One of the first things in the morning, along with my coffee, is to sit and find something to make me laugh.  I will search Facebook, YouTube or other sites to find things that are funny.  Ellen or Jimmy Fallon are usually sure bets to get some good laughter happening for me!
I find that it really helps me to set the day off right.  If I am feeling a little tired or sluggish it really helps to bring up my energy.  I firmly believe it when "they" say that laughter is the best medicine.
Laughter is very healing.  I believe that it allows us to break up dense energy and lets movement start to happen.  It raises our vibration and makes us feel good.  And that is the whole point of things, right?  To Feel Good Now!
If you are having trouble getting into a state of gratitude, start with finding something funny to watch or listen to or read.  It will help you uplift your energy and get you on the road to joy!
Below is the video I watched this morning to give me a good laugh! Enjoy!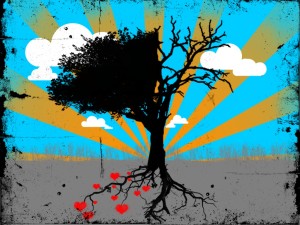 It was five years ago this past weekend that my life changed for the better.  I wouldn't have known it at the time, but looking back of course I can see how that moment was pivotal in changing my path.
I was involved in a car accident that was challenging to say the least.  It was actually one of two accidents in a 3 month period.  You see, the Universe was sending me messages for quite some time but I just wasn't listening.  I knew that I had to make changes in my career, but I allowed myself to make excuses not to change.
So the Universe sent me a message in the form of a car accident that forced me to have to stop working for a period of time.  Unfortunately, I didn't listen to what I knew I had to do, and I went back to work.  So the universe sent me the message a second time in the form of another car accident, to make things quite clear to me that I needed to make changes.  I guess I can be stubborn. 😉
I was in a job I hated, especially on a Monday.  I was unhappy, almost depressed.  Paul and I had been struggling with infertility for a few years.  Money was really tight…couldn't pay the bills tight.  Life as I knew it then was very challenging.  So to add the stress of 2 car accidents to what was already a stressful life felt just impossible to overcome.
I knew I HAD to change.  I couldn't live my life like that anymore.  After the 2nd accident and the circumstances surrounding it, I decided that it was time to make changes.  I had no idea really what this meant but I had made the decision that I was WILLING to make changes in my life.
That's all we have to do as a first step to change when we are feeling stuck.  We must be willing to make changes.  Once we decide that we are willing to change, the steps start to follow.  We will start to see the steps come forth.  My next step was to quit my job and move to Moncton to train in what I LOVE to do, for 10 months.  I have to admit, it was an extreme move.  In most case for others the turn of events will not be like that, but for me, this is what worked.
I decided to take that leap of faith and move forward.  I didn't know where the money was going to come from to pay the bills.  I didn't know where I was going to live while I was there.  I didn't know a single person that lived in Moncton when I left here to go there.  I couldn't see the outcome of what was meant to be.
Was I scared when I quit my job and decided to move?  Sure!  I didn't know if I would be coming back here.  I didn't know what the fate of my relationship with Paul would be.  But I knew in my heart of hearts, that this was the right move for me.
I just knew what the next step would be.  Once I took that step, then the next step would follow.  And the next.  And the next…until here we are in 2015.  Five years later.
I am now living the life I want to live.  I am happy, fulfilled and I love life.  I love Mondays and every other day of the week.  I can pay my bills now.  I am a completely different person than I was in 2010.  My life is enriched in so many ways.  I am truly blessed.
Yes, it took time to get to where I am.  I have to say though, the time flew by.  I look back and I think to myself…wow, it's already been 5 years!  It wasn't an easy path, but it was definitely rewarding.  It's important to have patience when you are on your journey.  Be kind to yourself.  When making changes for the better, choose things that YOU love to do.  If you are in a job you hate, make some changes!  Go to school part time, look for another job, or find fulfillment in a hobby.  Start a part time business.  It could be anything…just choose something that you love!
It's so important to love what you do in life, in all aspects.  When we love what we do, we feel better.  Our energy is better.  The flow of life is better.  Creating what we want is easier.
If you are in a space where you feel like a change is needed, and you have decided that you are willing to make changes, ask yourself what is that one first step that I can take to make things better?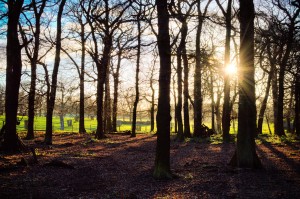 This is an awesome video.  There is talk about removing resistance to the things we want, and letting go of time frames of what we think our healing journey should take.  There is also talk about letting go of what other people think of us.  This is my favorite part I think.
So many of us worry about what other people are thinking about us, or lives, the decisions we make and if they are good or not.  Abraham really makes it clear as to why it is important to let go of this.  I really used to care a LOT about what other people thought.  I second guessed myself many many times.  I don't anymore.  Every decision I make is perfect for me and the moment I am in.  People are going to have opinions of me, good or bad.  No problem.
Letting go of the influence of others in my life was one of the greatest gifts I gave myself.  I wish that you will give this gift to yourself as well.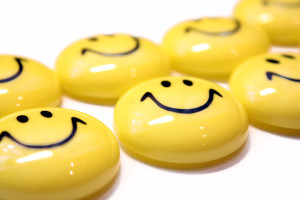 Sometimes it can be challenging to go from being a negative thinker to a positive one.  We are essentially creating a new habit and we must first become aware in how we are thinking.  Sometimes we aren't even aware that we are thinking negatively.  It's important to pay attention to the words we are speaking and thinking.  Are they uplifting or discouraging?
One way to create more positive thinking is to surround yourself with more positive people.  It's time to eliminate drama and the people that create drama in your life.  Are the people around you inspiring and supporting you and your dreams and goals?  Are they encouraging and uplifting?  If not, time to let go of or really limit the time you spend with them.  One thing I pay attention to is how I feel after being around someone.  Tired and demotivated or full of energy and ideas…pay attention to this.
Secondly, BE GRATEFUL.  Look at what you have in your life that is positive and focus on that.  Create more of that.  When you are in a stressful or challenging situation ask yourself what is good about this?  Look for the gold in any event in your life.  There is always something positive in every problem you are facing.
Number three?  Take responsibility for everything in your life.  You have created these events, so take control and look to change what is happening around you.  When we take responsibility, we are sitting in a more empowered state rather than one of being the victim. When we play the blame game we are in a victim mentality and it can be challenging to change what is happening.
Lastly, it's really important to create some alone time.  I know this could seem like a strange thing to have on this list, but it is really important to incorporate alone time in your life.  Recharging our energy is really important to our mental/physical/spiritual well-being.  One of the best ways to recharge your energy is to get some alone time in.  Meditation, yoga, exercise, reading, listening to music or just being in the moment are great ways to recharge and balance your energy.
There are many other ways to help you transition from negative thinking to positive thinking.  Forgiveness, being more kind, or trying not to over-think things are just a few other ways to help get you there.  The bottom line is that you really must be willing to make the change.  Once you decide that you are willing to change these thought patterns, the steps will fall into place.