Archive for the 'Announcements' Category
Hope is a mental shift that we choose for ourselves as we tap into our inner reserves.  When we decide to be hopeful, we open ourselves to discover the wisdom and strength we may not have known existed.

When we ask ourselves to stay positive and we answer the call, we are rewarded with the knowledge of what we learned in life.

Our lessons, when viewed from this perspective, show us that things generally work out as they should.

With hindsight, we are able to understand how a greater plan has been working in our lives.

-Marci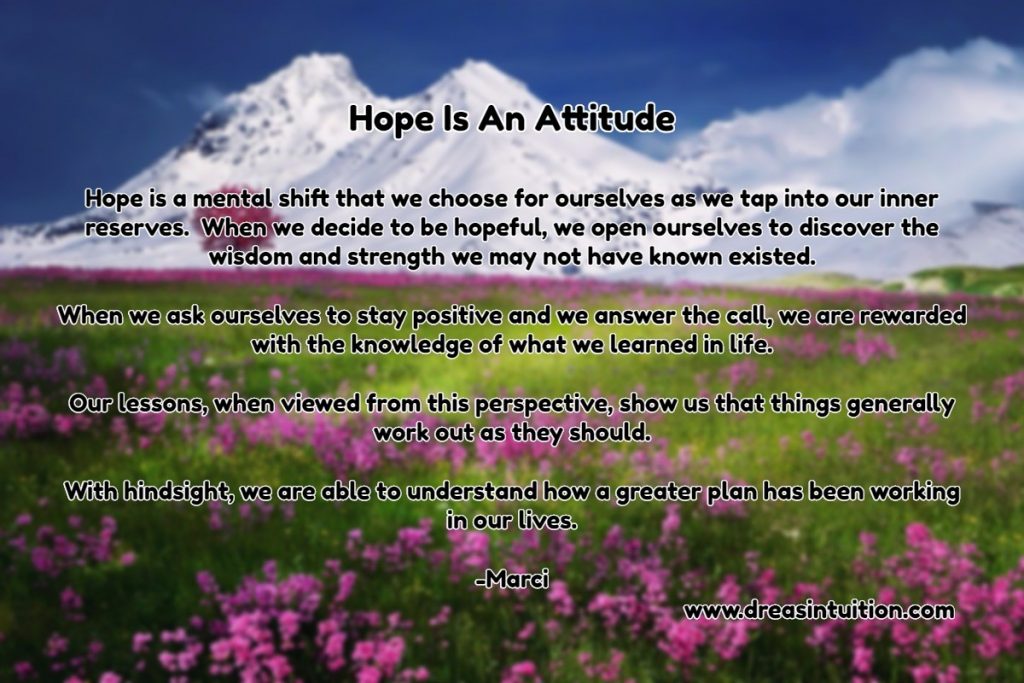 This one is one of my favorites!  Enjoy!
This is a time to look forward…but also a time to look back…to see what has brought you here and to give thanks for all that has happened on the road to life.

It is the love and joy we attain that warms our lives and our hearts, but it is the challenges we overcome that allow us to truly feel the glow of the accomplishment.

Celebrate the future…

hold dear the past…

and live fully today!

-Marci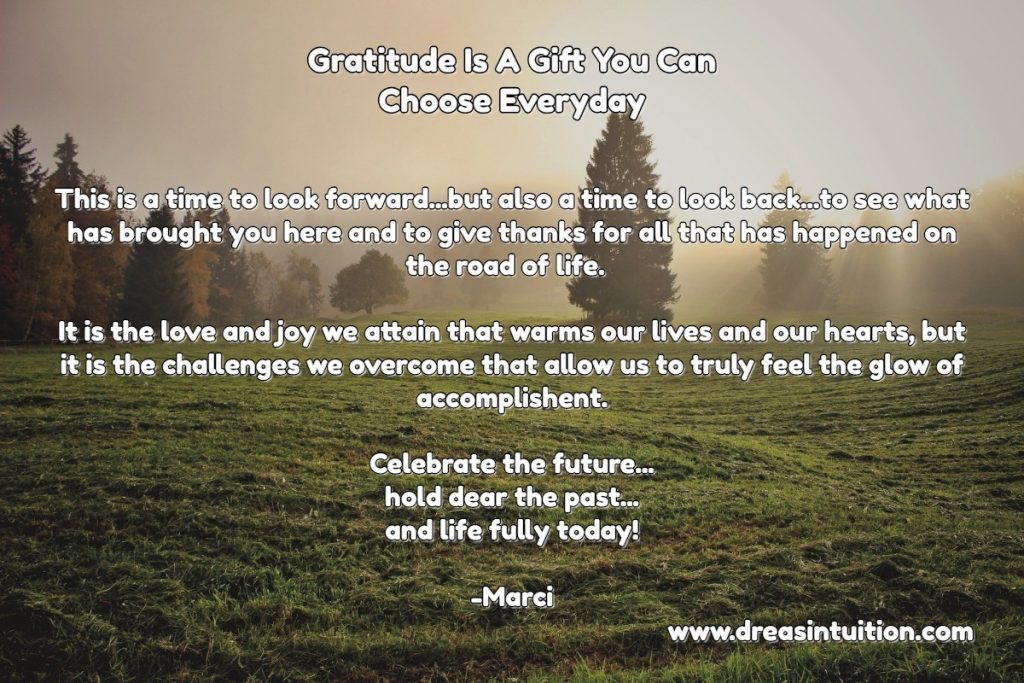 Happy Monday to you!  I've heard from many that last week was especially difficult energetically.  There was a lot of releasing and making way for change.  Hope you enjoy the next installment from the calendar series!
When you need encouragement, remember these things:

You are stronger than you realize.

Life's inevitable adversities call fourth our courage.

You have a lot of wisdom inside you.

God's plan will unfold with perfect timing.

The voice of your soul will lead the way.

A hug from a friend is only a phone call away!

-Marci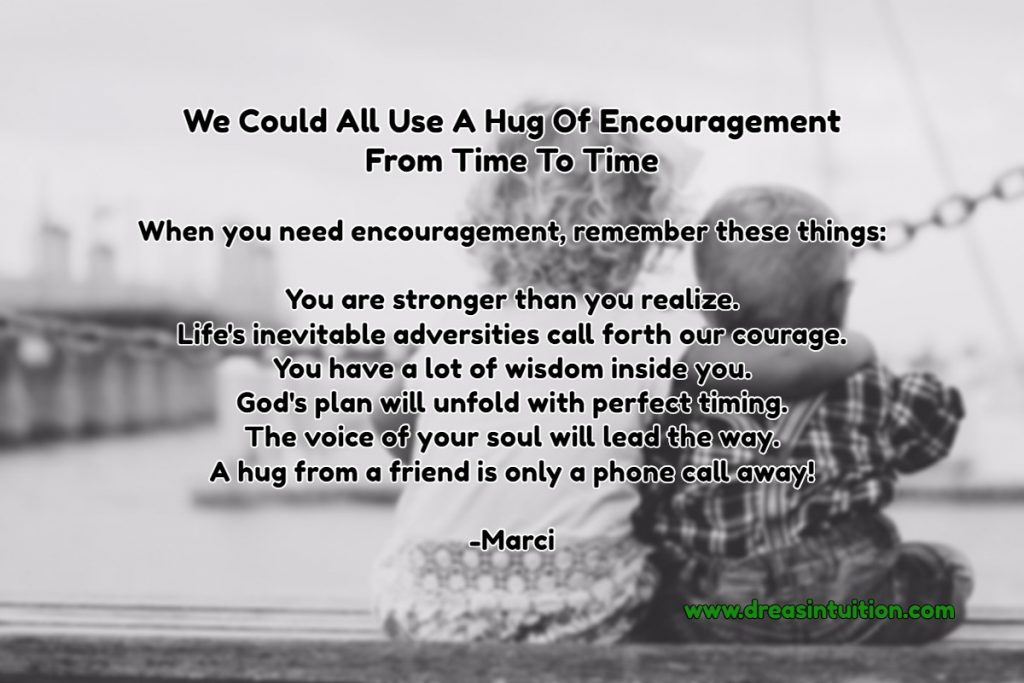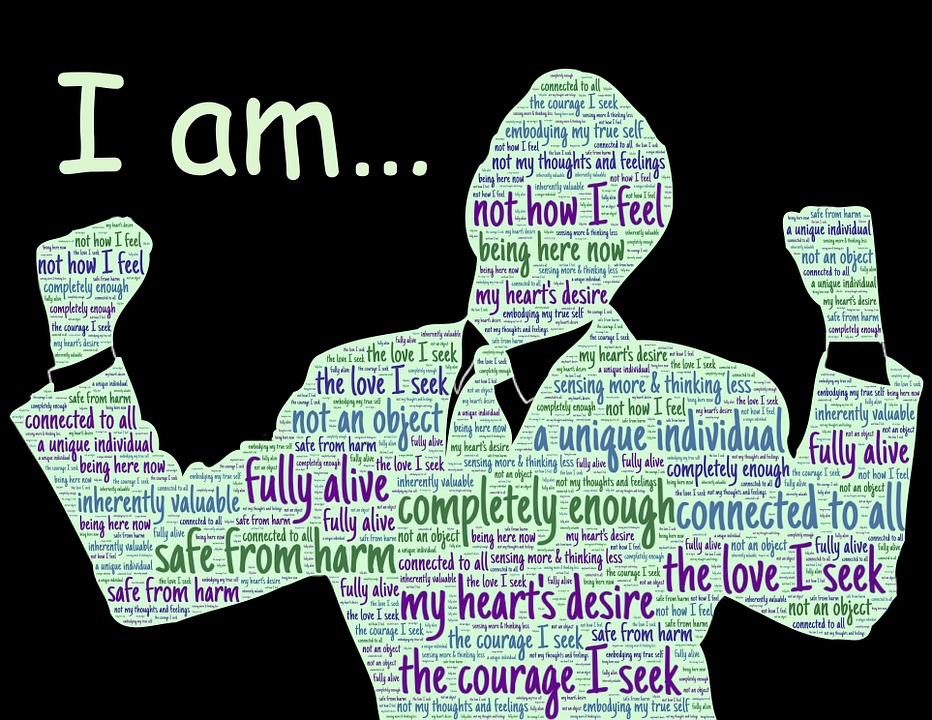 Something I have been working on creating in my life is to have really authentic relationships.  Relationships that are deep and meaningful and most of all, honest.
I felt like I had been pretty successful in weeding out any in-authenticity in my life, but I knew that there was something holding me back from allowing more "real" people to flow in.
Yesterday I had a major breakthrough in a session with a healer.  I've known this person for many years now and I was called to see him through my intuition.  It took a year of nagging by my guides…but I finally listened.  Haha!  I am stubborn sometimes.  😀
I've been having neck and hip challenges since my car accidents, 6 years ago.  Most of the healing had been done, but I kept getting these relapses where these trouble spots would seize up.  Last week I happened to have one of those relapses and my neck totally seized up, for 4 days!  It just so happened that Paul had seen a posting on Facebook from a mutual friend, Nima Rahmany saying that he was now doing mobile chiropractic work in the Lower Mainland and would come out to our home.  Must be a coincidence, right?  Ha! 😉
So, I decided to book an appointment for an adjustment with him, which happened to be yesterday!  He came to my home, set up his equipment and then we had a chat.  He asked me a bunch of questions, of which most I can't remember now.  We did talk about what I wanted/or what I was lacking in my life right now.  I told him how I wanted to seek out more relationships/people that were authentic and that I was tired of how some people around me were not being real and authentic in our relationship.
Through a series of more questioning (what a nosy bastard, eh?  hehe) we came to the conclusion that I was being a hypocritical asshole!  There was a fairly significant relationship in my life that I wasn't being real in.  Right under my nose!  Can you believe it?!   People that really know me would probably say that I'm pretty straight forward and to the point.  The awareness of this realization of having this type of relationship was quite surprising.  🙂
We then dove deeper!  More questions…more answers…more awareness!  For a while now, I've been aware of a subconscious program I've been running of "not being good enough".  I've been working on tackling it for a while now.  Yesterday it was linked back to this significant relationship in which I wasn't being real in.  There were feelings/actions from the past that were hindering the relationship today, and I was allowing it to happen!
This relationship had/has love in it…it was just stiff and awkward.  We didn't really go deep into much conversation, topics were kept light.  The dance didn't flow like it could, so to speak.
So here we are talking about this new founded awareness and what does Nima say?  "Ok, now you are going to call this person and tell them how you have been pretending to be in a relationship with them."  I think my words back to him were something like…"are you fucking kidding me?  I can't do that!"  LOL!  He pretty much told me too bad…you are doing it.  This was my homework.  We made a game plan of what I was going to talk about, through most of which I cried.  I had Nima running for kleenex multiple times through this bit of the session.  🙂
So I put my big girl panties on…and did it.  I had this conversation with this person.  This was big.  I was facing a huge fear I didn't realize I had.  I got really real.  The conversation was the most honest conversation we have ever had.  And it was fabulous.  I shared, this person shared and we left the conversation with a new level of depth and openness.  I am so grateful I followed through and had this conversation.  It really transformed this relationship in a matter of 20 minutes.
One of the things Nima said to me that really hit home and was a deciding factor in having this conversation with this person was that we don't really know how much time we have left.  Well…he actually said "You're gonna die soon…you don't know how long u have to do this."  Hahah!  His words hit home, because we don't know how much time we have here on Earth.  I am a big believer in living in the present moment and in being open, honest and present for the relationships in my life.
In writing this story and sharing with you, I hope I have inspired you to take a look at the relationships in your life and find a way to be more open and honest in them.  😀

I have a calendar from 2013 that I decided to keep.  The reason being is that I really enjoyed reading the inspiring messages that came each month.  I decided to display this calendar in my healing room and many of my clients enjoyed reading these messages too!
I thought it may be nice to share these messages on my blog in hopes that you would enjoy them as well.  Once a week I will post a new message for 12 weeks.  I will post the first one today, and then every Wednesday following.  I hope you enjoy them as much as I did and still do!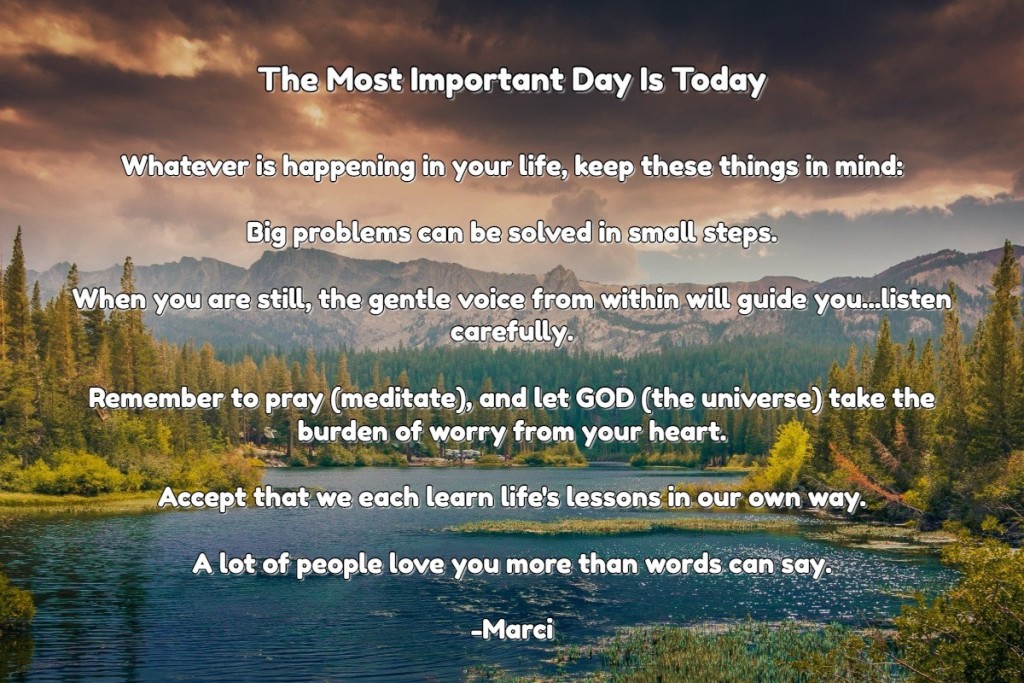 I've updated my workshop dates for late summer and into the fall.  Check out the new dates below and sign up if you are interested.  Space is limited!
Reiki Level One
Available to 4 students, this level one Reiki class will provide a deep understanding of Reiki and the importance of the Self – Healing energy this level brings.
We will discuss the history of Reiki, as well as learn self healing techniques and hand placements.  There will be a relaxation meditation taught to help you on your way.  You will also receive your first attunement, which includes the first powerful Reiki symbol.
Intuitive healing, sound healing and chakra balancing will also be discussed.
Students will be given practice time to become comfortable with using the first symbol and the strong energy it harnesses.  We will practice self healing as well as healing on others.  Students who successfully complete the class will receive a Level One Reiki Certificate.
Cost: $165.00
Date: Sunday, November 8th

10am until 4pm
Location: Maple Ridge, BC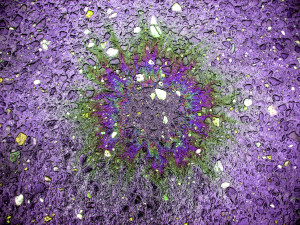 Stop worrying about what other people think!
It's time to live a more authentic life!  Be true to you!  Make yourself happy and feel fulfilled.
Too many people are living their lives based on decisions they made out of obligation to others or please other people.  This does not serve you and your authentic self.
I used to worry about what other people thought of me or the decisions I made.  I used to hide who I was and worry that I would be judged.  Not any more.
Take me as I am.  I am a bright light.  I am full of love.  I am caring, honest and loyal.  I am sassy and dynamic.  I am opinionated, loud and fun. I wear my heart on my sleeve.  I am a clairvoyant, a medium and a healer.  I have varied interests.  Sometimes I allow my temper to get the better of me.  I am overweight and I love my body as it is now.  I am who I am, take it or leave it.
I fully understand that people won't get me, or judge me based on their perceptions of who I am and what I represent to them.  This is OK!
What I'm trying to say is that it is so freeing to just be who you are, in all totality.  Accept all aspects of yourself and let yourself shine.  Let yourself ring true to who you are.  Let go of the worry or fear of being judged by others.
Take your mask off.  It's time to shine.  Be authentic.  Be you.

This is a great video and I wanted to share it with you.
Cats are hilarious and can be jerks at times.  I love my two cats dearly despite the jerky things they do sometimes!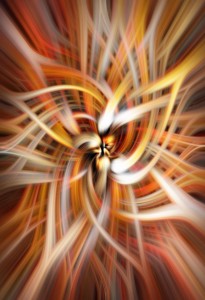 I've decided to start offering a new service.  I think that this service will be beneficial to many, but especially to those who are seeking tools to help them better their lives and relationships.
This 2 hour session will be tailored to your specific needs and will enable you to move past energetic and emotional blocks so that you can start creating the life you want.  These sessions will help you understand more about your life and gain a greater understanding of what is holding you back from the next step in your growth.  We will look at overcoming fears and re-aligning energy to better access the limitless energy that you deserve.
These sessions can be implemented at any point in your journey.  Whether you are just starting out or have reached a plateau and are looking for the next level, you can benefit from these sessions.
The cost of a transformational session is $200.
Contact me to book your session.